At Our Premium Mexico Outfitter outfitting is their full-time business and their only business. They are a very diversified run business. We invite you to come and join us for the ultimate Mexico Mountain hunt.
Our Mexican Outfitter currently has 4 of the Top ten Fair chase pending World records show with a muzzleloader, all shot between October and December 2021. We strive to only harvest the absolute Largest of rams as our genetics and area allows us to consistently present our clients with a ram of at least a 33" Caliber. They can tailor hunts to what you may need to achieve your goal, in some situations by horseback.
Typically, we hunt many private land exclusive leases on ranches that are from 10,000 to over 35,000 acres each. Their leased areas encompass thousands of square miles which is what allows our clients that absolute largest trophies available in the fair chase hunting world!
2022 Hunting Season:
Dates are Approximate, please check with us for availability, as we book 1-2 years out. Season usually runs from September thru March, with peak rut being Sept. / Oct. Weapons of choice Include:
Muzzleloader- 95% shot opportunity on 33" plus rams
Rifle -95% shot opportunity on 33" plus rams
Archery – 30% shot opportunity on Mature rams
1 on 1 $6,500 or 2 on 1 $5,500 Meals, Lodging, Guide service.
Method of hunting is plenty of private land leases driving two tracks and glassing for hours. Once sheep are located the spotting scope comes out to verify maturity, overall size 33" plus, and distance to a good ethical shot.
Once a shooter Ram is located it is determined the best approach to close the distance safely, quickly, and to harvest ethically with a one-shot kill!
Because of the difficult terrain, we certainly want all clients as prepared as possible for the physical requirements to safely Harvest Your Ram of a LifeTime!!
"Meet the Pending New #1 Muzzleloader World Record-
Father son Hunt for the Books! Harvested 12-19-21"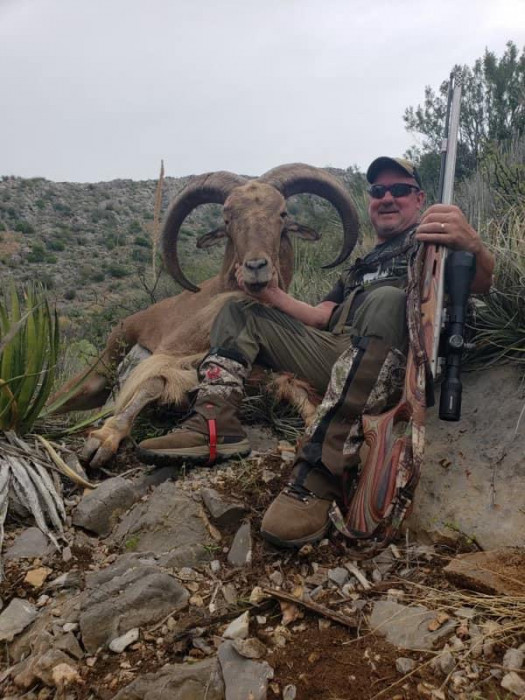 At the Time of Harvest –(October 2021) Brian's Monster beat the current World record taken with a Muzzleloader by 20 inches- Making this the pending New #1 World Record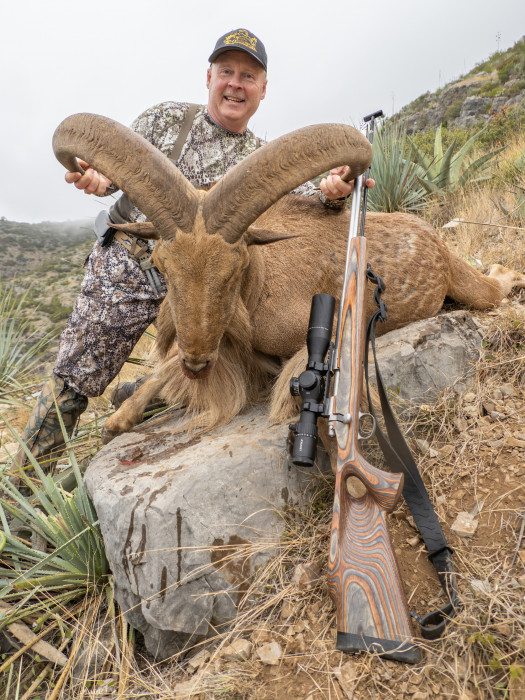 Call Frank to get your Trophy Aoudad hunt booked in the absolute Best Fair chase private land leases in Mexico……………….With the Largest Aoudad in the World! Frank Smith-1-607-644-8597