At Our Premium British Columbia Outfitter outfitting is their full time business and their only business for over 30 years. They are a small family run business with huge 5,000 plus square kilometer outfitting area! We invite you to come and join us for the ultimate British Columbia wilderness adventure hunt.
They have plenty of choices here! From Free range California Bighorn Sheep on the Frazier River, Moose, Mountain Goat, Mule Deer, Black Bear, Mountain Lion, Whitetail, A Trap-line adventure, and many Combo Hunts, as well as World Class Fishing!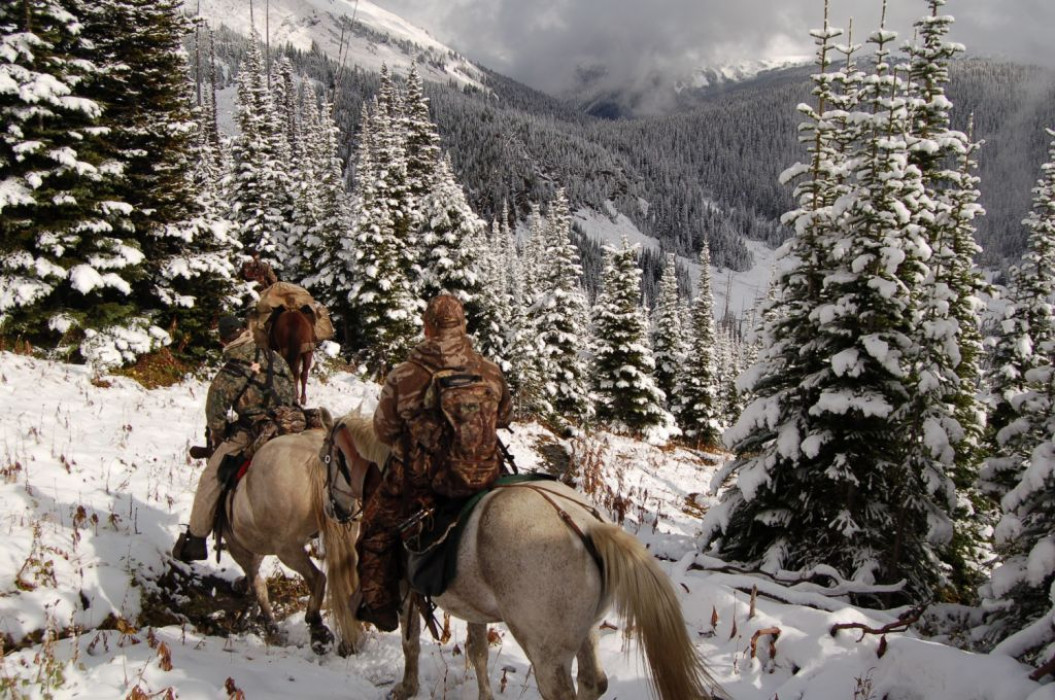 2022 Season Rates - Hunting Season
Rates Include: Government Royalties, application for and pick up of license and tags, professional guides, quality food, and comfortable, well equipped camps. They also include movement via boat, vehicle or horseback around area, transport to and from Williams Lake Airport and field preparation of meat and trophies.
Rates do not include: Cost of License and Tags, GOABC Hunter Preservation Fund, Goods and Services Tax, hotel expenses before or after contracted period and gratuities. Nor do they include firearms & ammunition, game bags, sleeping bags, rest pads or personal gear, taxidermy or shipping of trophies and meat to final destination, or alcoholic beverages or tobacco.
All prices quoted in US Dollars per hunter. Unretrieved, wounded animals are considered taken and the hunt for that species tag is finished. No refunds will be given upon withdrawal from any hunt in progress.
We have the exclusive guiding rights to 3500 square miles of prime big game country bordering Wells Gray Provincial Park. Our territory is in Management Units 5-2 and 5-15 in the Cariboo region of British Columbia. The terrain varies from slow meandering rivers where the great chinook salmon spawn to lofty alpine meadows and mountains reaching more than 8000 feet. Roughly one third of our area is Roadless wilderness, while the remainder has logging road access to our camps and hot spots for moose, deer and bear.
We have a wide variety of big game species to hunt within our territory. Silver tipped grizzlies inhabit much of our rugged mountainous terrain and several record book bears have come out of our management unit. Black bears in various color phases are plentiful throughout the area. Our average black bear squares over 6 feet, with many going over 7 feet. Wolves are plentiful as well and can be taken on all our hunts, or as a hunt unto themselves. Canadian moose are widespread throughout our territory, with trophies taken each year in the 40" to 55" category. Our mountain goats are second to none, with record book billies taken annually. The region has become well known for its massive mature mule deer and our area is one of the finest. Many record book cats also come out of the Caribou and our largest cougar taken ranks # 4 in the world.
During the spring, we hunt for grizzly, black bear and wolf. Our fall hunts include California bighorn sheep, moose, mountain goat, mule deer, black bear and wolf. During the winter months, we hunt for mountain lion (cougar), lynx, coyote and wolf. Due to the many geographical differences in terrain, we hunt by a variety of methods. Your hunt could include any of the following: gliding by canoe or boat down a river during the early morning or evening; watching from a stand overlooking meadows or small lakes; foot hunting; using well-trained mountain horses for hunting or for getting in to and out of otherwise inaccessible areas; or traveling by vehicle in the accessible portion of our area. We take into consideration requests made by our hunters regarding which method they prefer.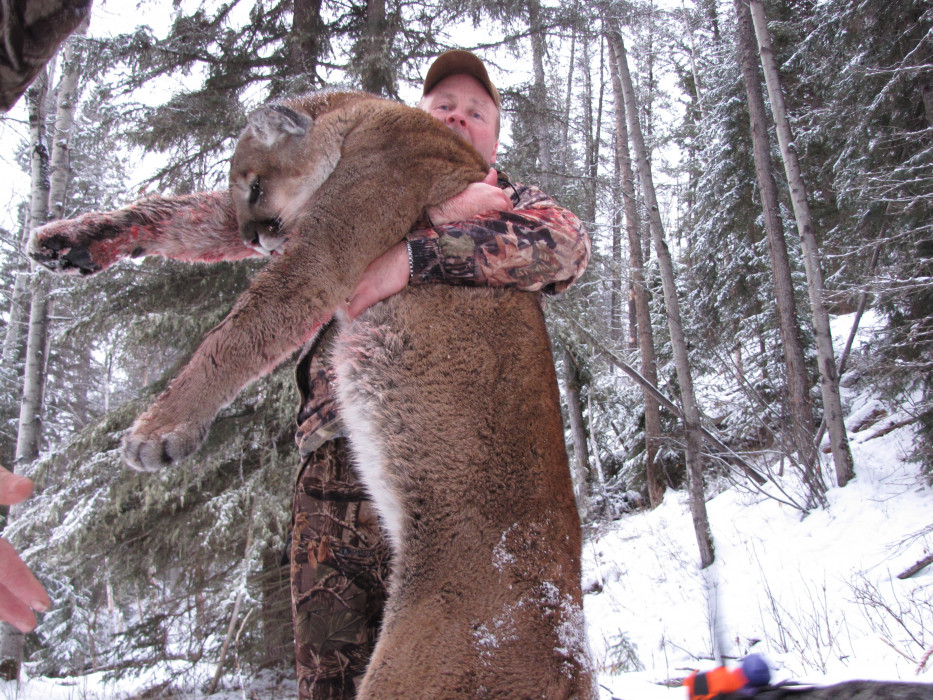 2022 Pricing
Mountain Goat

10 Day: 1x1 - $12,500
10 Day: 2x1 - $10,500
7 Day 1x1 - $9,800

Mountain Lion
Moose

10 Day: 1x1 - $10,500
10 Day: 2x1 - $8,800
7 Day 1x1 - $7,500
7 Day 2x1 - $6,000

Mule Deer

7 Day 1x1 - $5,500
7 Day 2x1 - $4,500

Black Bear

7 Day 1x1 - $5,500
7 Day 2x1 - $4,500
5 Day 1x1 - $4,500
5 Day 2x1 - $3,500

Lynx - Predator calling hunt

7 Day 1x1 - $5,300
7 Day 2x1 - $4,000

Lynx - Hound

7 Day 1x1 - $6,000
7 Day 2x1 - $4,750

Non Hunter

$180 per day for regular hunts
$250 per day for trapline and horseback trips
Add ons
Moose - $3,000 (availble for Mountain Goat hunts)
Mule Deer

- $1,500 (available for Mountain Goat, Moose, Black Bear)

Black Bear - $1,500 (available for Mountain Goat, Moose, Mule Deer)
Lynx - $2,000 (available for Mountain Lion)
Bobcat - $1,500 (available for Mountain Lion)
Whitetail - $1,500 (avaiable for Mountain Goat, Moose, Mule Deer)
Wolf - No charge (available for all hunts)
Additional Trips
Trap Line - Includes one of Each Animal trapped except Wolf and Wolverine

5 Day 1x1 - $5,100
5 Day 2x1 - $3,700

Cast and Blast

5 Day 1x1 - $4,500
5 Day 2x1 - $3,300
Season Dates
Mountain Goat
Mountain Lion
Moose

September 10 - November 30

Mule Deer

September 1 - December 10

Black Bear

May 1 - Jun. 15 / Sep. 1 - Oct. 15

Lynx/Bobcat

November 15 - February 15
Government License & Tag Fees (Canadian Dollars)

All amounts are subject to change without notice and do not include G.S.T.
We will advise our clients as soon as possible regarding any change in fees.
Payment Requirements: a non-refundable 50% deposit is required on all bookings, with the balance due 30 days before your arrival at the lodge. Though non-refundable you may move your hunt and deposit to a different date in the same calendar year, subject to availability, at no additional charge; or to another year, at the New Year's price, subject to availability, for an administrative fee of $200. Final Payment may be made in any of the following forms: personal check, money order, or bank draft.
NOTE: ALL HUNTS ARE SUBJECT TO A FEDERAL GOODS AND SERVICES TAX (G.S.T.). ALL HUNTERS ARE REQUIRED TO SIGN AN INFORMATION/WAIVER FORM AT TIME OF BOOKING.
ALL HUNTERS ARE REQUIRED TO SIGN AN INFORMATION/WAIVER FORM AT TIME OF BOOKING. All Pricing is subject to change without notice.
Call Frank at 607-644-8597 To Book your Next Adventure!